Our brand new 2020 model just arrived and has even more upgrades only found at Saturn Rafts including upgraded German Heytex PVC ($75 value) and improved C7 style inflation valves ($50 value)! See the attachments link below to our Heytex PVC brochure. The SATURN KaBoat is for those that can't decide between a Dinghy and Kayak. This versatile crossover can be used like our SATURN inflatable Kayak by paddling or can be turned into a motorboat by attaching a gas or electric engine to the plywood transom at the stern. Aluminum seats and incredibly stable design make it great fishing vessel and the compact size make for an excellent dinghy for a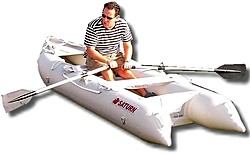 yacht or sailboat.
The SATURN KaBoat is capable of transporting heavier cargo and offers a more stable design than that of a traditional kayak. The narrow profile allows for much less drag and allow it to outperform most traditional dinghy's with similar engine size.
This is a new and revolutionary design, crossover between an inflatable kayak and an inflatable boat – an inflatable kayak with a plywood transom - KaBoat! To use it as a regular kayak, just paddle it anywhere you want, such as on the: ocean, bay, river or lake. All KaBoats are now come with rowing oars!
If you get tired, just use an electric or gas engine installed on the marine grade plywood transom. You can use it as an inflatable boat with an outboard engine.
If the battery charge or gas runs low, then use it as a kayak to paddle to your destination. The KaBoat is extremely portable and will fit in a medium size bag. Now you can go on vacation and take your small KaBoat with you, (along with an optional small electric or gas engine). The main benefit is that if you get tired of paddling, then you can use the engine to get back ashore.
The KaBoat's is exceptionally stable design allows you to stand, fly fish or even get into those narrow spots where other boats can't go to get the best fishing. Check at the all new version with upgraded features, a full exterior grommet strip, and added splashguards!
An optional electric motor can act as a virtual "Ride-Assist". Just set the throttle to the 1st speed setting and it will help reduce rowing exhaustion. On the 1st speed setting, an electric engine can run around 12 hours (depending on battery size). A basic 30 lbs electric engine starts at around $99 at most outdoor goods retail stores. The SK396 KaBoat with an electric engine is an ecologically friendly, environmentally clean, real "Green" boat!
Additional Features:
Same heavy-duty 1100 Denier PVC as in SATURN inflatable boats.

Wide beam hull design for stability.

Full length Spray Skirt with water deflector guard and rope lacing.

Marine grade plywood transom with a one way drain plug.

High-pressure inflatable air deck floor.

4 fins for improved tracking.

1 set of rowing oars with oar locks.

2 aluminum removable benches.

Included: hand pump, repair kit, 2 oars and carry bag.
Benefits of KaBoat VS. conventional Kayak or Inflatable Boat:
Conventional plastic or fiberglass kayaks require significant storage space due to their large dimensions. KaBoats can be deflated and folded for easy storage and transportation.

Kayaks can be only paddled, but the KaBoat allows you to use a small gas or electric engine to cover larger distances. If you get tired of paddling, you can start using an optional outboard engine.

KaBoats are much more stable than conventional kayaks, allowing for standing and walking inside the KaBoat. In fact, you can fish standing or even ride while standing.

The KaBoat can be used for diving, snorkeling, and fishing, however not many conventional kayaks can offer similar functionality.

Due to the high buoyancy of its inflatable tubes, the KaBoat can transport a much larger cargo than regular kayaks.

KaBoat allows you to go to narrow or shallow places where regular inflatable boats will not fit. Just raise the engine and paddle anywhere that is at least 5" deep.

Due to its smaller chambers, it is much easier and faster to inflate a KaBoat than a regular inflatable boat.

Because of its narrow profile and a much lower drag than wide conventional inflatable boats, KaBoats can go faster with the same rated engine than comparable size inflatable boats.

KaBoats can also be used as a dinghy to a yacht or sailboat, but take up much less space when deflated and folded. KaBoats also can be placed on a swimming platforms.

KaBoats cost much less than any inflatable dinghies and most kayaks available today.
Gray KaBoat Previous Version

Older original version of KaBoat SK396 in action. (click on images below to zoom in)
KaBoat Specification
1100 Denier German Heytex PVC
Heytex PVC Specs (170407_brochure_HEYboats_EN_DE_view.pdf, 1,259 Kb) [Download]
Find more Inflatable Boats by SaturnBoats.com