Saturn Performance KaBoat VK380
Sport KaBoat with inflatable V-keel for better handling and performance.
New 12.5' KaBoat VK380 has XL large 17" tubes, extra wide 20" inside space large enough for beach chair,and it comes with large inflatable keel that forms V-shaped bottom of the hull. That helps to improve performance and directional stability. VK380 KaBoat has 3 separate air chambers for extra safety, compared to 2 standard chambers of Standard Series KaBoats. The VK380 has with large size rounded end tubes to support heavier motors and a squared off bow for greater weight capacity.

What makes this KaBoat different from our Standard Series is the larger diameter tubes and more greater inside width. Our standard series have 16" tube diameter and 18" between tubes inside width. While VK380 has 17" diameter tubes and 20" inside width. It also has more roomy shape of the bow area than our Standard Series KaBoats, in addition to V-keel. It is like our standard dinghy models, but much narrower and it can go faster with a smaller motor.

Our VK380 V-keel KaBoat comes with an extra thick 5" thick drop stitch inflatable floor that provides excellent support while standing.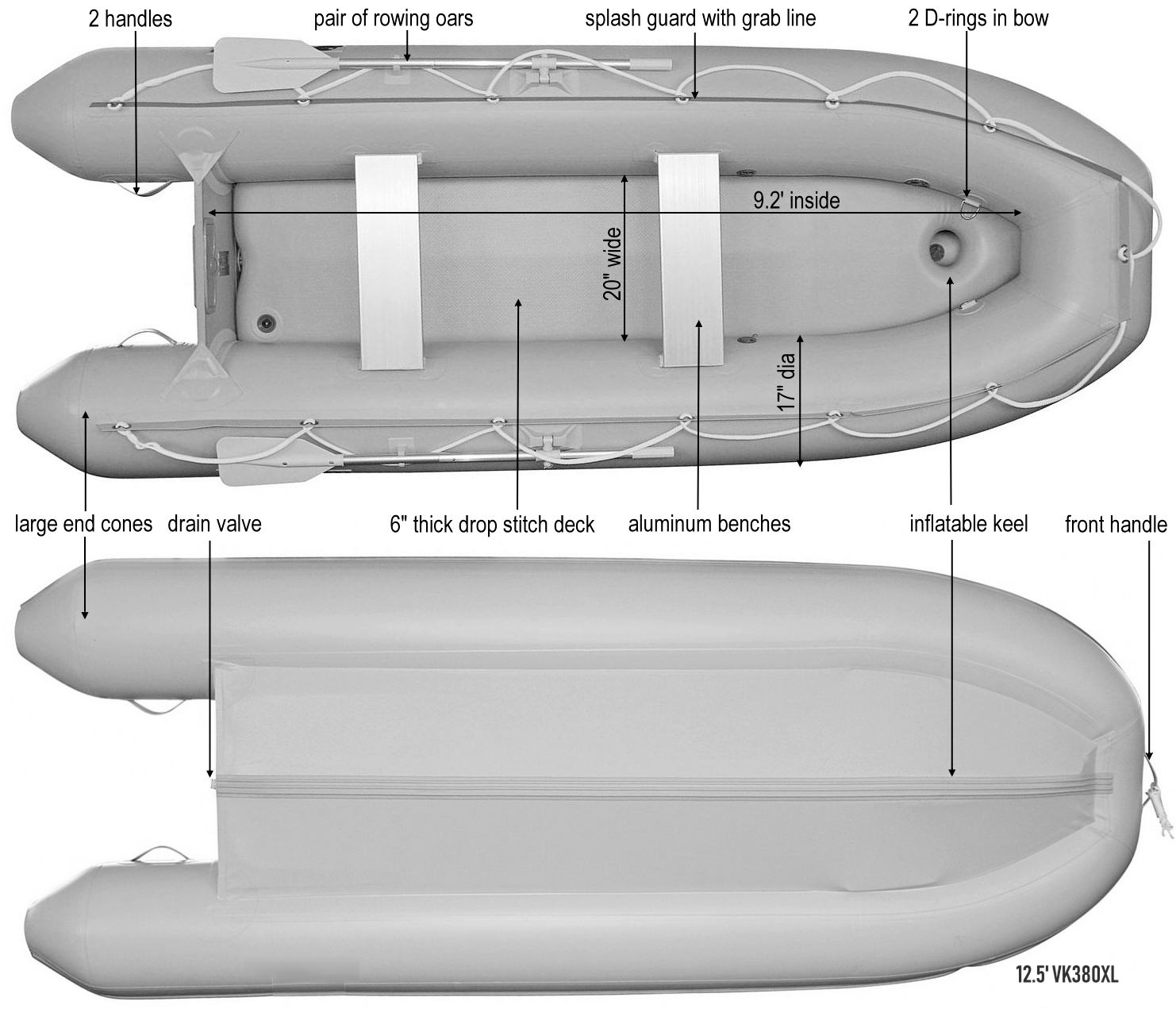 VK380 Inflatable KaBoat Specifications:
Same heavy-duty 1100 Denier PVC as in SATURN boats & rafts.
Splash guards with safety rope all along boat perimeter.
Marine grade plywood transom with a one way drain plug.
3 separate air chambers for extra safety.
Rub strake along the keel, to protect again
2 rowing oars with oar locks for easy rowing.
Handles in front and on rear tubes for easy transportation.
Set of 2 D-rings inside bow section of tubes for lifting with davits system.
2 lightweight aluminum removable benches.
Included: hand pump, repair kit, set of rowing oars and carry bag.
Videos of Saturn VK380 with 55Lbs Electric and 10HP Outboard Motor.
KaBoat Specification
1100 Denier German Heytex PVC
10 HP 4-Stroke (15 HP 2-Stroke)
PVC Specs (170407_brochure_HEYboats_EN_DE_view.pdf, 1,259 Kb) [Download]
MATERIAL:
1100 Denier PVC
FLOOR TYPE:
150mm Air Deck
Find more Inflatable Boats by SaturnBoats.com