Saturn High-Performance Inflatable KaBoat ZK330
Extra Wide, Heavy-Duty KaBoat with inflatable V-keel.
We are testing out the newest line to our Saturn KaBoats which takes our dinghy design concepts and combines them with the narrow KaBoat design. The combination is a unique product that provides more interior space that our other KaBoat models when comparing similar lengths.
Despite its shorter length the ZK430 is big! This performance KaBoat has the same extra large 18.5" diameter tubes as our larger performance KaBoats and the interior length/width is stretched sizeably compared to the standard 12' Saturn KaBoat. The performance KaBoats all introduce our custom inflatable keel design and creates a smooth V-shaped hull to help improve performance in flat water. This ZK330 model is lighter and more portable than the ZK430 KaBoat model and is great to store in the truck on your car or in the closet of your RV. This is also a great little fishing boat or dinghy tender from your yacht or sail boat.
The ZK330 KaBoat model has 3 separate air chambers for extra safety, compared to 2 standard chambers of in our standard series KaBoats. It also comes with an extra heavy-duty rub strake layer covering portions of the bottom tubes for extra protection and durability where you'll need it most.
Our larger tubes diameters in the ZK330 model means more buoyancy, greater capacity and better handling. This model is a great choice for 2 adults and you could add a child if you don't mind a tight squeeze.
Our initial tests show you'll need about a 5 HP outboard to put the ZK330 up on a plane with a single person. With 2 riders, the weight distribution provides flexibility to use even smaller outboards. A 10-12HP outboard will push the limits with top end speeds of 25-30 mph.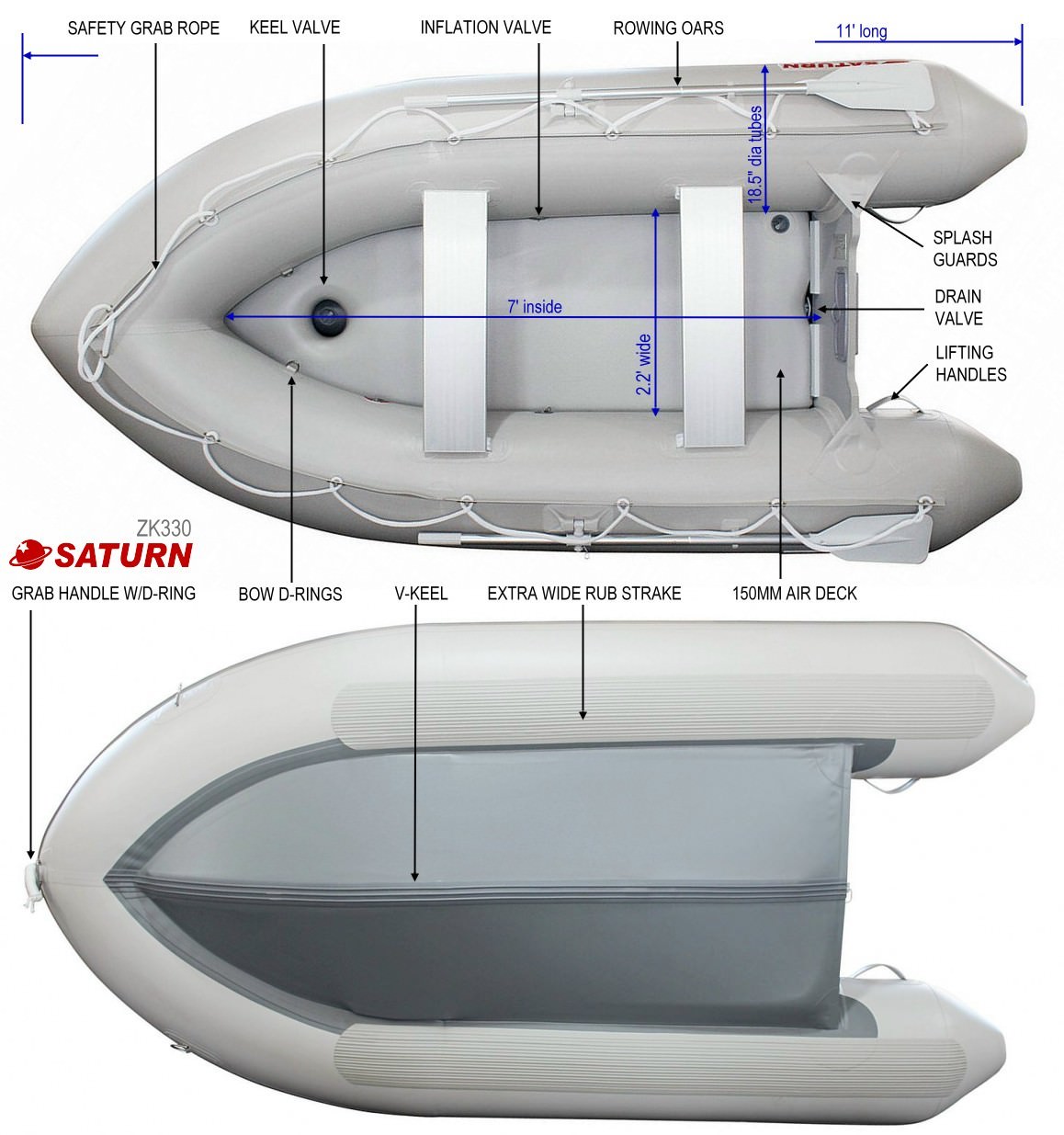 The following specs are standard for the ZK330 KaBoat:
Same heavy-duty 1100 Denier PVC as in our other SATURN KaBoats (with exception of the Outfitter Series)
Splash guards with safety rope all along boat perimeter.
Marine grade plywood transom with a one way drain plug.
3 separate air chambers for extra safety.
2 rowing oars with oar locks for easy rowing.
Extra thick 6" drop stitch air deck floor for quick deployment..
Front metal D-ring with integral handle for easy carrying.
Set of D-rings inside tubes for gear attachment.
Set of D-rings outside tubes bow for easy towing.
Included: 2 benches, hand pump, repair kit, set of rowing oars and carry bag.
KaBoat tubes weight without floor is 50 lbs. Removable floor weight is 16 lbs.
Saturn ZK330 performance KaBoat.
KaBoat Specification
1100 Denier German Heytex PVC
10 HP (Up to 20 MPH) - 5 HP (Up to 15 MPH)
PVC Specs (170407_brochure_HEYboats_EN_DE_view.pdf, 1,259 Kb) [Download]
MATERIAL:
1100 Denier PVC
FLOOR TYPE:
150mm Air Deck
ENGINE CAPACITY:
15 HP Short Shaft
Find more Inflatable Boats by SaturnBoats.com