16' Heavy-Duty, Extra Large Inflatable KaBoat SK487XL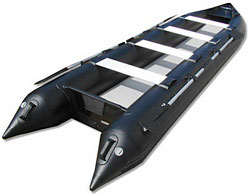 New, extra large XL KaBoats come in 2 versions: Expedition Gray and Special Ops Military black.
SK487XL KaBoats are designed to support more gear and provide more space than other KaBoat models. Extra large, 16" diameter oversized tubes and an extra wide interior make the SK487XL KaBoat perfect for law enforcement, special military operations under cover of darkness, or expedition along an unexplored coast. This model is also great for remote island explorations, fun day on a water with a family, or just simple fishing on a weekend with friends.
This new SK487XL model has 4 separate air chambers for extra safety, compared to 2 standard chambers of regular KaBoats. Extra heavy-duty rub strake protectors are installed along both sides of the tubes for enhanced durability and rigidity.
SK487 KaBoats come with 2 sets of oarlocks and 2 sets of rowing oars for fast tandem rowing. With a 15HP 2-stroke outboard motor, this KaBoat was riding scary fast! The SK487XL handles sharp turns great and holds large waves without a problem.
Same heavy-duty 1100 Denier PVC as in SATURN boats & rafts.
Front spray skirt with water deflector guard and rope lacing.
Marine grade plywood transom with a one way drain plug.
Extra thick, high-pressure 140mm inflatable air deck floor.
Durable rub strake protectors along boat tubes.
4 fins on bottom of tubes for improved tracking.
4 (four!) separate air chambers for extra safety.
2 sets of rowing oars with 2 sets of oar locks for tandem rowing.
4 lightweight aluminum removable benches.
Included: hand pump, repair kit, 4 oars and carry bag.
KaBoat Specification
Halkey-Roberts type valve by Naru
10 HP 4-Stroke (15 HP 2-Stroke)
Find more Inflatable Boats by SaturnBoats.com