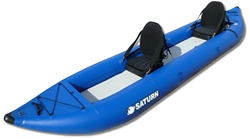 We're excited to announce the new 2020 model 14' Saturn Ocean Kayak is finally back in stock! It's been challenging to keep up with the demand for this product and they will likely sell out again this spring but if you miss out we've got more arriving throughout the year.
The list price includes 1 highback foam kayak seat ($50 value) which is really a must for this particular kayak if you're going out on the ocean for long. The highback seats are awesome and provide much better back support and ability to paddle. This is a commercial grade inflatable kayak designed specifically for ocean use. The 14' Saturn Ocean Kayak (OK420X) has some new improvements and the "X" modification designates our upgraded C7 style inflation valves ($60 value

) and our upgraded German Heytex PVC. We have used our innovative technology to apply a self bailing floor which allows water to escape through the bottom and makes the OK420X kayak ideal for use not only on the ocean but also for flat rivers, bays, and streams. The OK420X now features removable directional fins to provide greater directional stability and reduce seesaw action you'll experience in competitor products. You can use the fins or remove them when you are kayaking in rocky or shallow river conditions. Also the newly designed catamaran-hull feature helps with stability and reduces friction with the water.

This kayak is the most portable ocean ready tandem inflatable kayak on the market and it's as roomy as anything you'll find when kayaking with 2 people. It inflates/deflates in under 5 minutes and the ability to transport it in a car is perfect. It is lightweight and easily stores in the trunk of your car or SUV. The new German Heytex heavy-duty PVC is an improved material over our prior models and has proven to be able to handle commercial grade conditions along with rocky/bony water. Our drop stitch customized floor is over 5" thick, is able to be pressurized to over 6 psi, and new for 2020 includes a second layer of PVC on the top and bottom surface making it the toughest on the inflatable kayak market. The floor thickness provides the buoyancy needed to keep the waterline well below the top surface of the floor. The OK420X series kayak also comes with pre-installed heavy-duty D-rings to accept the included 1 kayak seat and cargo (a 2nd seat can be added for $50).
Please note: While this kayak is self-bailing it is not really intended for whitewater kayaking use. It was designed to allow water to penetrate through the floor but the speed at which the water releases from the kayak is much slower than our professional grade whitewater kayaks. If you are looking to use the kayak in river rapids then please consider the 13' Saturn Whitewater Kayak which will yield much better self-bailing results.
Additional Information
Customer FAQ: How is the Ocean Kayak OK420X different from your Expedition RK, Fishing FK kayaks, or Whitewater WK kayaks?
Answer: The biggest difference is the position of the floor, the floor thickness (5") and the intent to use the highback kayak seats instead of inflatable thwarts or aluminum bench seats. The thicker floor is still the extremely rigid inflatable floor but since water is allowed to enter and discharge this kayak can see more water during use than our other kayaks without the bailing gaps. The OK420X is also longer than most models which provides greater leg capacity when paddling tandem and advantageous for more gear hauling. The removable fin design is really helpful for flatwater use or in the ocean. The inflatable floor is directly exposed to the bottom area you are kayaking so it doesn't have the same protection as the FK396X or WK396X models which have the added second layers. This isn't critical for most customers as the single layer of material can easily handle most lake/ocean use. Consider the other models if you want to bang around on the rocks/coral with limited concern. For true river use in rapids where significant water will need to be removed quickly for performance, the 13' Saturn Whitewater Kayak is recommended.
Additional Information:
Heavy duty 1,100 Dtex High Strength PVC fabric coated on both side with 1100 g/m2, 0.9mm. Fabric is thick, puncture and abrasion resistant.
Extra thick high-pressure air deck drop stitch floor.
Bungee cord to secure gear in front and back.
Heavy-duty D-rings for kayak seats (1 included) and gear.
Removable fin design for directional stability (new 2020 model has 2 fins for improved performance) .
2 soft handles in front and rear, and front D-rings for anchor attachment.
Upgraded C7 style Inflation Valves with "X" model ($60 value).
Accessories: 1 basic aluminum kayak paddle, 1 hand pump, repair kit, 1 kayak seat, & 1 carry bag.
Additional 2nd kayak seat is optional, and available next to color selection of this product.
Optional high-performance paddles, lifejackets, and gear are available in our Accessories section.
Installing the Removal Fin is Simple:
Insert the fin before inflating your kayak. Fold the deflated kayak floor at the slot entrance fin base then slide the fin and attach as shown in the example pictures below (please note the photo below shows 3 fins as is for informational purposes only regarding installation of the single fin included in this model). Unfold the kayak and inflate, it's that simple.
Kayak Specification
2 Side Tubes and 1 Dropstitch Rigid Floor
900 lbs (Point Load Over 250 lbs May Allow Some Water to Come In Through Bottom at That Specific Location)
Find more Inflatable Boats by SaturnBoats.com