PRO Saturn Inflatable Ocean Kayak (OK420)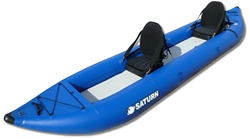 We're excited to add the Saturn Inflatable Ocean Kayak to our extensive kayak product line. It is a commercial grade inflatable kayak designed specifically for ocean use. We've used our innovative technology to apply a self bailing floor which allows water to escape through the bottom and makes the OK420 kayak ideal for use not only on the ocean but also for rivers, bays, and streams. The Saturn Whitewater Kayak is a much better option for true whitewater/rocky conditions but the ocean kayak covers the gamit of other conditions.
The OK420 features 2 removable directional fins, one in front and one in rear which provides greater directional stability and reduces seesaw action experienced in competitor products. You can use 1 fin, 2 or remove them both. Also the newly designed catamaran-hull feature helps with stability and reduces friction with the water.

This kayak is the most portable ocean ready kayak on the market and inflates/deflates in under 5 minutes. It is lightweight and easily stores in the trunk of your car or truck. The heavy-duty 1100 Dtex PVC is the same material found in our inflatable boats and has proven to be able to handle any condition. Our drop stitch customized floor is nearly 6" thick and is able to be pressurized to over 6 psi, making it the most rigid on the inflatable kayak market. The thickness provides the bouancy needed to keep the waterline well below the top surface of the floor.
The OK420 series kayak also comes with pre-installed heavy-duty D-rings to accept up 1 or 2 optional kayak seats and cargo.
Installing the Removable Fins
Insert the fin before inflating your kayak. Fold the deflated kayak floor at the slot entrance fins base then slide the fin and attach as shown in the example pictures below. Unfold the kayak and inflate, it's that simple.

Find more Inflatable Boats by SaturnBoats.com