13' Saturn Angler Series Inflatable Fishing Kayak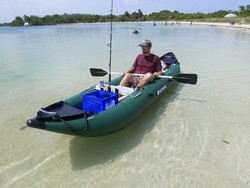 Our new 13' Saturn Fishing Kayak is easy to carry, portable to store, and is the most versatile inflatable fishing kayak on the market today. An absolute must for any RV or camper where a fishing craft with maximum portability is critical. This model sold only at www.saturnboats.com and www.saturnrafts.com includes our upgraded valves and extra thick 1.5mm PVC floor (over $60 value).
Our 13' Saturn Fishing Kayak is easy to carry by a single person, inflates/deflates in under 5 minutes, stores in the included carrying bag with rough dimensions of 45"x28"x12", and is the most versatile inflatable fishing kayak on the market today. The new version includes extra thicker black PVC bottom skin layer (over 70% thicker) which covers the full bottom surface of the kayak and adds a second layer to protect the exterior tube chambers. This upgraded version also includes the upgraded inflation valves which assures durability along with a maximum pressure rating in all chambers. These upgrades provide piece of mind knowing you have the highest quality / value ratio on the inflatable kayak market. This kayak is an absolute must for any RVer or camper where a fishing craft with maximum portability is critical.
This kayak is made of the same heavy-duty 1100 Dtex PVC as our other Saturn inflatable boats and the drop-stitch high-pressure airdeck floor is the most rigid inflatable floor on the market. The floor is made to support up to 3 adults. In addition, a double layer of PVC fabric is applied to the air floor and on top of the tubes, in between the benches to prevent accidental fishing hook accidents. Our rigid high buoyancy tubes and customized floor make the Saturn FK396 kayak so stable, that you can stand up and fish if needed.
The 13' Saturn Fishing Kayak comes with 2 removable aluminum benches that can be used for mounting various hardware, such as rod holders, GPS units, video cameras, dive flags, anchor mounts, and even a fish finder.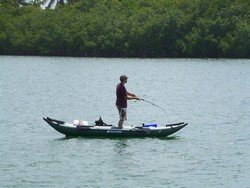 What makes this kayak so unique, is the multitude of ways it can be used. You can sit directly on the aluminum benches to paddle using kayak paddles or you can remove the seats and install our custom high-back kayak seats for full back support.
It is also possible to replace the rear aluminum bench with a longer version and add a vertical plate for an optional electric motor.
The Saturn FK396 fishing inflatable kayak is a breeze to paddle due to its narrow profile, high buoyancy exterior tubes, and rigid drop stitch floor.
Please note that this kayak is not a self-bailer. It was designed for lakes, ponds, flatwater rivers, oceans and bays. If you are looking for a self-bailing kayak, no need to look any further than our 13' Saturn Whitewater Kayak. If you want this specific model and absolutely need it to be a self-bailing unit you can cut out 4-6 self bailing holes in the kayak bottom to let excess water escape. However, that option may allow water to entire above the kayak floor depending on the weight capacity.
If you want a completely unbiased review of this product please visit this YouTube link sent in from one of our customers - (https://www.youtube.com/watch?v=pRYLpyiYn_M&feature=player_embedded)
Customer Testimonials
"I am all the way in East Africa, and I am crazy about fishing. I bought the kayak via a mutual friend from the US after I saw his boat. Throughout my life I've had lots of deferent boats, but man this is a nice boat. I am using the boat in Kenya great lakes like Lake Victoria. I intend to use it also at the coast for fishing on the reefs." Marius, Kenya
"16 months ago I purchased three kayaks - 2 FK396 and 1 SK470. Soon thereafter they were put to use. My wife and I, several of our friends, and grandchildren have paddled the boats on the Great Lakes, inland lakes and rivers in Michigan, and the Intercostals as well as rivers on the Gulf Coast of Florida. I know we have 150+ miles and many hours of paddling the boats with no problems and lots of fun times.."
"I wanted to write a quick letter describing my experience with the FK396 fishing inflatable kayak that I purchased last June. We have been using an inflatable kayak for the last four years. We purchased a Sea Eagle 330 to take with us in our fifth wheel trailer as we traveled full time around the country for approximately three years. Although the Sea Eagle did a satisfactory job most of the time, we found it wanting in several areas. I like to fish in everything from small rivers and ponds to large lakes and even inshore ocean bays. I was looking for a heavy duty inflatable that I could easily mount fishing accessories to and even possibly a trolling motor. My search took me to the boatstogo.com website where I found just what I was looking for. I must admit I was extremely skeptical when I saw the low price on what seemed to be a very high quality boat. I had seen similar boats advertised for at least twice the price but the specifications and the reviews I read convinced me to give the FK396 a try..."
Now this is a Fishing Machine! Our Saturn Fishing kayak set up by one of our customers.


Added motor mount for 30lbs trolling motor, deluxe folding chairs, kayak trolley cart, etc...
General Specifications

Heavy duty 1,100 Dtex High Strength PVC fabric coated on both side with 1100 g/m2, 0.9mm (1.5mm thick on floor). Fabric is thick, puncture and abrasion resistant.
Two Velcro straps on both tubes to secure oars when not in use.
High-pressure air deck floor with double layer of PVC fabric in a middle.
Two removable aluminum platform seats, also for gear and oar holders.
Double layer of PVC fabric on top of tubes in a cockpit area.
One large removable fin at the bottom for directional stability.
Storage space in front and bow under splash guards.
8 heavy-duty D-rings for optional kayak seats.
Hugging rope with handles in front and back.
Upgraded inflation valves ($60 value)
Accessories: 1 set of oars, 2 aluminum seats, repair kit and carry bag.
Complimentary Hand Pump and Spare Air Valve included.
Kayaks seats are optional, and easy to add. Call us at (800)217-3270 or visit our accessories section.
Kayak Specification
2 Exterior Tubes and 1 Inflatable Rigid Floor
Find more Inflatable Boats by SaturnBoats.com