12' Inflatable Pedal Kayaks PK365.
New Design, Compact Folding Pedal drive included!
New model of inflatable kayaks board with pedal drive for human powered propulsion on a water. Any type of low or high beach chair can be mounted on top of that kayak using double D-rings with straps. Great for pleasure cruising or fishing.
Kayak comes with aluminum bench and rotomolded mount to hold pedal drive on that bench. Also comes with high quality aluminum pedal drive, compare to $899. Pedal drive is new model that can be folded for portable storage and transportation.

Kayak has elongated cut out to drop in pedal drive. Cut out can be closed with a Velcro cover. Motor can be lifted up and out of way for easy beaching. Pedal kayak can also be used without drive, with regular kayak paddles.
There are 2 steering options for inflatable pedal kayak. Easiest and simplest, is just to use kayak paddle to change direction of movement. Fin on a bottom of kayak helps it with strait directional movement. Just few stroke of kayak paddle can easily adjust it if needed to make turn. Additional option is to attach optional kayak paddle or SUP paddle (not included) to one of double D-rings in rear of tubes, drop blade in a water, and use that paddle blade as a rudder.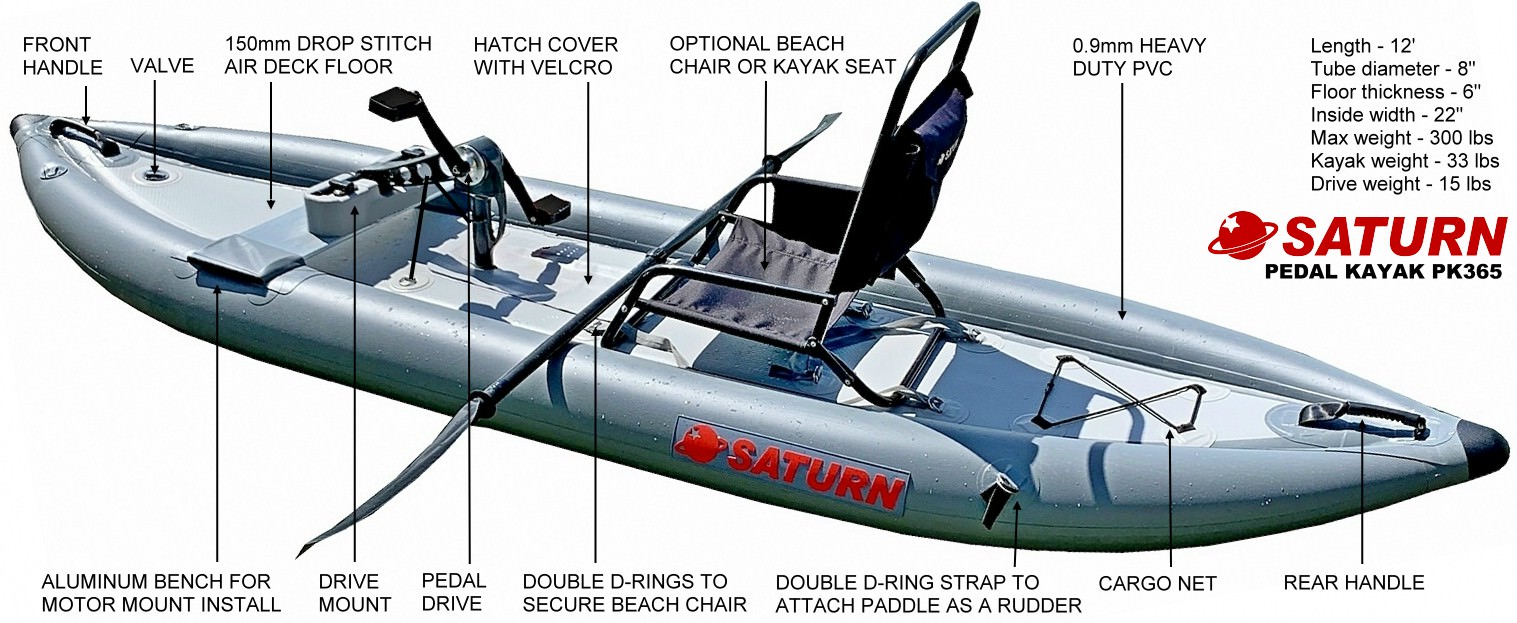 Length - 12'
Tube diameter - 8"
Floor thickness - 6"
Inside width - 22"
Max weight - 300 lbs
Kayak weight - 33 lbs
Pedal Drive weight - 15 lbs
Shipping/Packing Size - 33 x 23 x 12"
Pedal is saltwater ready. Flashing with fresh water after use is recommended.
Recommended air pressure for tubes 25kpa and floor is 60kpa.
Any type of beach chair, sand chair, lawn chair, etc (not included) can be mounted on top of this kayak.
Included: hand pump, aluminum bench, removable fin and rotomolded mount for pedal drive.
High quality, new folding compact design pedal drive included.
Not included: beach chair, kayak paddle.
Inflatable Pedal Kayak PK365. (shown with non folding pedal drive)
Quick instructions:
Rotomolded pedal drive mount need to be bolted to aluminum bench with 2 provided stainless steel bolts.
2 plastic sliding locks need to attached on top of rotomolded mount with provided 2 screws each. These are needed to hold pedal drive rod inside mount.
Slide aluminum bench with mount installed inside 2 pouches on top of kayak tubes. Wet ends of benches in water to make sliding easier.
Position such way that mount is in center of kayak, aligned with elongated cut out in kayak floor. Pedal drive shaft must be perpendicular to bottom.
Remove Velcro cover, and lower pedal drive into opening. Secure with Velcro strap between 2 x D-rings in front of opening, so that motor does not move upward when pedaling. If you need to raise pedal drive, simply disconnect Velcro straps and pull motor out of opening by rotating it over rod secured inside rotomolded mount. You can also close cover and place motor prop right on top of that cover.
Use straps with double D-rings to secure beach chair to kayak floor.
Generally, kayak paddle can be used to easily adjust kayak directions, with just few strokes.
Or, use strap with double D-ring at one end of tubes, to secure paddle to make optional rudder, if prefer that way.
Notes on assembly:
When pedal drive lowered into cut out, it should rest against cut out front.
Pedal drive shaft must be perpendicular to kayak floor.
Please make sure that motor mount installed with 2 black locks facing rider.
If pedal drive not perpendicular to the floor, it might be necessary to re-drill new holes on aluminum bench to adjust position of pedal drive little bit forward or backward. Because inflatable kayaks assembled manually, one by one, slight variations are possible during production. If that is the case, and shaft not under 90 degree angle to the floor, then all you need to do, is to remove screws from motor mount, position it on top of aluminum bench in a such way that shaft of drive is perpendicular to the floor, mark edge of motor mount on bench, and drill 2 new holes to secure motor mount to bench.
Find more Inflatable Boats by SaturnBoats.com