9'6" Azzurro Mare AM290 Premium Triton Series Inflatable Boat. Upgraded 5 Year Warranty & FREE Tube Cover for UV Protection ($300 value)
The new 2020 Triton Series premium Azzurro Mare boats will be in stock in July in very limited quantities. The Triton improvements on this model include heat-welded seams, top-of-the-line German Mehler PVC, and upgraded inflation valves ($400 value compared to our standard version).

The AM290 inflatable dinghy has an upgraded wider transom that can handle up to a 10 HP short shaft (15" recommended for best performance) outboard motor and can carry up to 4 people. These boats are European CE-certified, also certified by German LLoyd, and come with all the paperwork required for a quick registration.
If you are looking for a dinghy tender it is well known that reliability is critical and the Azzurro Mare brand provides upgraded improvements at budget pleasing prices. Consider this inflatable boat if you believe a dinghy is near to the most important piece of equipment a cruiser can own. A 10HP outboard motor installed on this boat will fly over the water at top speeds in excess of 20 mph with 1 passenger and limited gear. A 5 HP motor will put the boat on plane and will provide a great transport from sea to shore. The dropstitch air floor is truly exceptional and among the most rigid inflatable floor you will find in the world (rated over 8 psi which is over 200% more rigid than most 3 psi rated inflatable floors). You can stand on the floor just as you would on a plywood or aluminum section floor. The deflated boat breaks down nicely and will only require the removal of the seats and oars. The deflated boats will easily fit in a large cuddy with dimensions around 40"x30"x24" (about 3'x3'x2') and doesn't take up much more space than a large travel bag.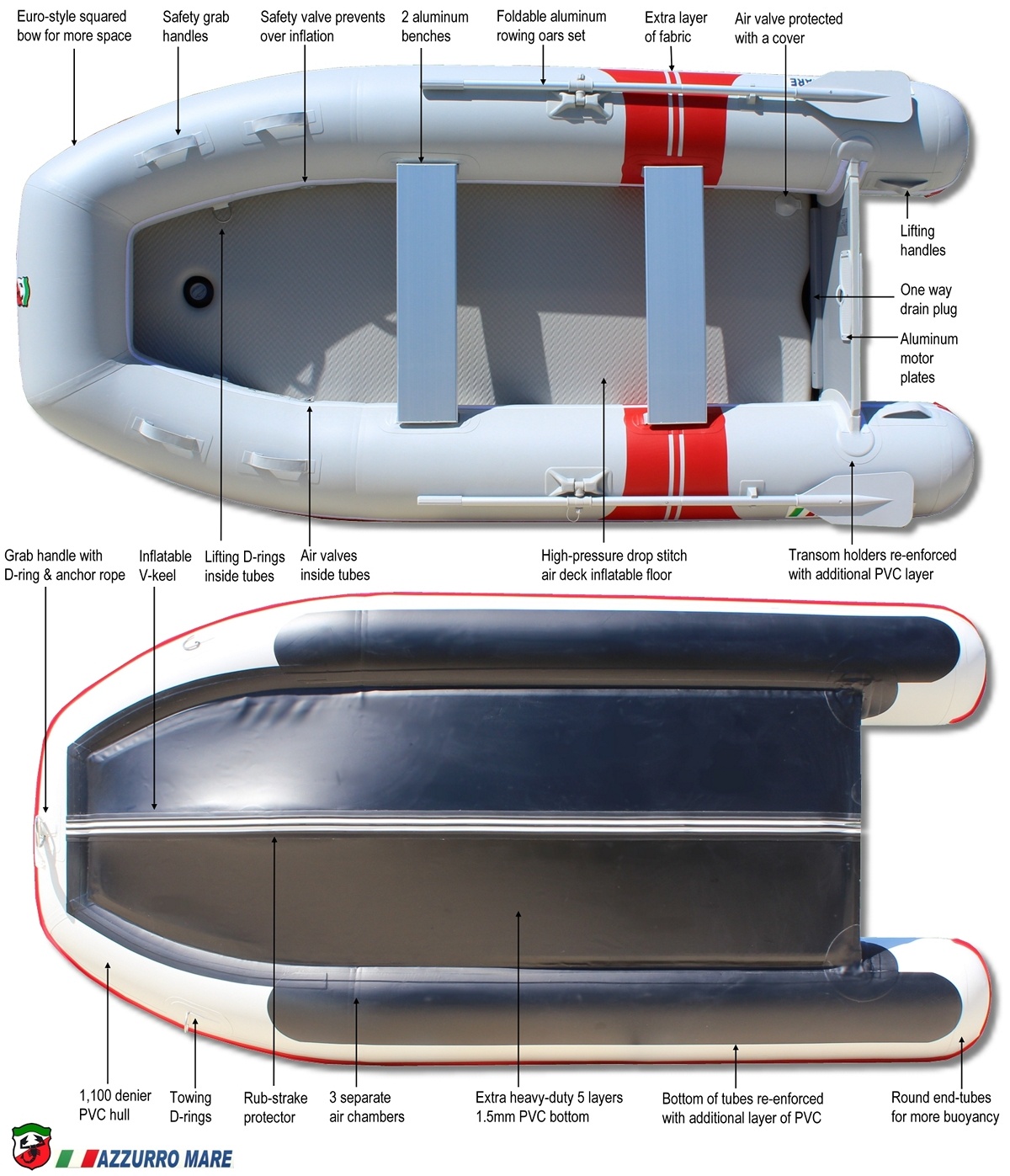 Azzurro Mare Inflatable Boat Tech Specs:
5 Year Manufacturers Warranty for transom and hull seams on all Azurro Mare boats.
Attractive Euro-style squared shape bow adds more useful space and capacity in front.
The V-shaped bottom hull of AM inflatable boats is made of Extra heavy-duty 1.5mm PVC, which is almost twice of thickness of our standard heavy-duty 0.9mm (1,100 denier) PVC.
The bottoms of the tubes are also covered with an additional layer of the same 1.5mm PVC. That makes nearly 3.0mm of extra heavy-duty PVC in order to puncture an air chamber from the bottom surface.
Our round end tubes provide more buoyancy and support for heavier engines.
The transom holders are re-enforced with an additional layer of PVC to protect against UV-rays.
Two lifting D-rings added inside front bow for the securing of additional equipment and easier towing behind a yacht, cruiser, or sailboat.
The inflation air valve in the inflatable floor is protected with a cover to keep dirt, sand, and water away.
Three separate internal air chambers provides extra protection should an air chamber ever have a leak or deflate.
One-way drain valve with plug makes for easy exit of water.
All around durable rubber strike provides protection where most wear occur when docking or tying off to another boat.
A pressure relief safety valve has been installed in the side tubes to protect against over inflation due to dramatic temperature or pressure changes.
Our stainless steel D-rings provide easy towing.
Upgraded C7 style inflation valves.
Installed front bow D-ring with integral lifting handle.
Spare rope for attaching anchor is included.
High-pressure drop stitch air floor is included (rated over 8 psi - over 200% more rigid than most inflatable boats).
Deep inflatable V-keel with a rub strake protector.
Extremely rigid, lightweight hull for maximized performance.
Included lightweight and strong removable aluminum seat bench.

A free second bench is included when order is placed on-line! ($50 value)

Our heavy-duty marine grade plywood transom supports up to a 10HP outboard motor.
Included equipment: aluminum oars, repair kit, seat bench and carry bag.
Free, complimentary generic high-volume hand pump is now also included.
Free, complimentary tube covers, retail value over $300 are included.
For the list of optional available accessories please contact us or visit our Accessories section (we highly recommend investing in the dinghy wheels)
Boat Specification
10 HP (15" Shaft / 100 lbs)
Upgraded Inflation and Pressure Valves
Find more Inflatable Boats by SaturnBoats.com