2020 is going to be an exciting year for our fishing product line and the all new 10' Heavy-Duty Saturn Fishing Boat (FB300X) is one of the main reasons. This product was designed specifically for those who want a true fishing machine but need greater portability than a traditional hard bottom boat. The 10' Saturn FB300X is constructed of our new an improved German Heytex PVC material and C7-style inflation valves which combine to represent over $200 in additional value versus our standard model.
Please spend a few minutes looking through the product photos to truly get a feel for all of the upgraded options we've designed on this boat. Every inch of the FB300X was utilized to provide the best fishing machine you'll find in a 10' inflatable boat. Some of the features include multiple layers of extra thick 1.5mm PVC (glued along the bottom of the tubes and up to rub strakes on side of tubes), an entire bottom floor covering of extra thick PVC, pre-installed rod holders, inflatable keel, custom detachable bow motor mount, heavy duty D-rings, interior drain valve, rear lifting handles, front stainless steel lifting handle, removable bench seats, a custom sectional aluminum floor.
The Saturn FB300X boat features two lines with grommets that are shifted off of the center of the tubes, leaving enough space in between to store cargo on top of tubes. An additional extra wide strake protection layer is glued on top to provide maximum protection to store all types of gear directly onto the tubes. Our new patent pending cargo lacing system was added on the top of the tubes to add extra cargo and maximum valuable interior storage space. You can see in the photos how well the lacing system allows for drybags, duffle bags, bait boxes, tents, smaller coolers, dive gear, or even a fillet board.

The 10' Saturn FB300X is our heaviest-duty inflatable boat, primarily designed for fishing. Two custom sockets for detachable fishing rod holders were added on top of the tubes in the bow area and we're even including the custom rod holders themselves with this introductory offer. We've also added a front motor mount at the bow for installation of an electric trolling motor along with our standard rear transom for installation of a 20-HP outboard. An actual front motor mount will be included as a bonus gift for all online orders, suitable for up to a 55lb electric trolling motor.
Our heavy-duty sectional aluminum floor provides extra protection where you need it most! Simply put, the Saturn FB300X inflatable fishing boat is THE choice for those looking for the most versatile and durable inflatable fishing boat on the market. If you're not specifically targeting fishing but are looking for a great inflatable boat for scuba diving, or explorer remove islands, this boat works great for that too.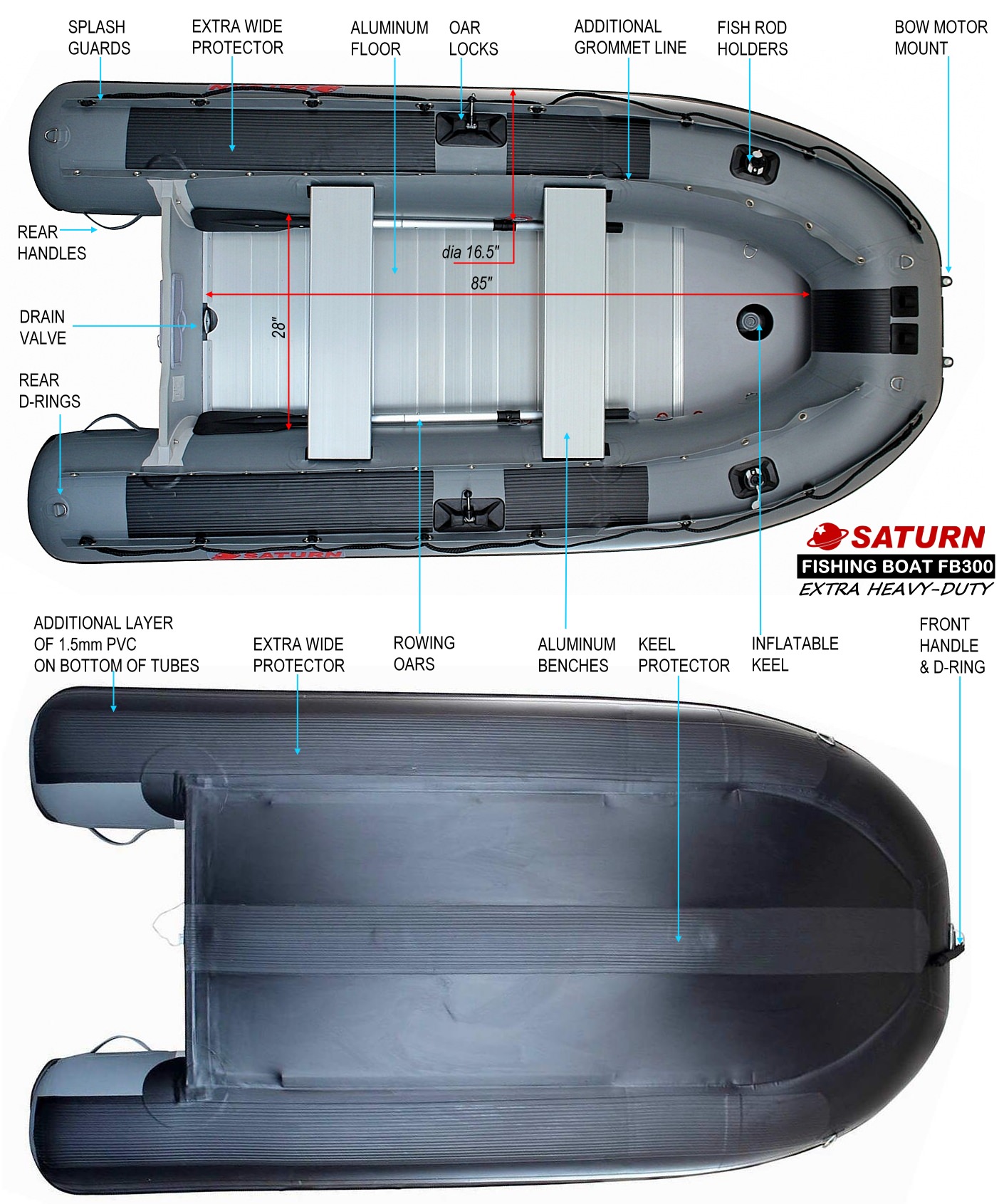 Specifications:
Upgraded German Heytex PVC in SATURN boats & rafts.
Double line of grommet lines to secure cargo on top of of the side tubes.
Splash guards with safety grab rope.
Extra thick and wide rub strake protector on top and bottom of the exterior tubes.
Extra thick and wide rub strake protector on bottom of the keel.
Additional 1.5mm PVC layer on bottom of tubes, up to side rub strakes.
Bottom V-keel section of the boat made of 1.5mm upgraded Heytex PVC.
Detachable bow motor mount for electric trolling motor.
Two mounting brackets for fishing rod holders.
4 x D-rings in the bow area and 2 x D-rings on top of the rear tubes.
Towing D-ring in a bow area.
Sectional heavy-duty aluminum floor.
Front stainless steel handle with integrated D-ring for light anchor rope.
Folding aluminum rowing oars.
Additional holders for rowing oars inside tubes.
Included: hand pump, repair kit, carry bag, 2 aluminum benches, anchor rope and rowing oars.
Duffel bags and fishing rods shown for illustration purposes only. Not included.
BONUS, FREE GIFT - Bow motor mount!
BONUS, FREE GIFT - Two high quality fishing rod holders.
More questions? Check out our FAQ section for more details
Boat Specification
15 HP (15" Shaft / 125 lbs)
45"x24"x14" and 36"x24"x4"
Heytex PVC Specs (170407_brochure_HEYboats_EN_DE_view.pdf, 1,259 Kb) [Download]
Find more Inflatable Boats by SaturnBoats.com